2018 – Quality is no longer a luxury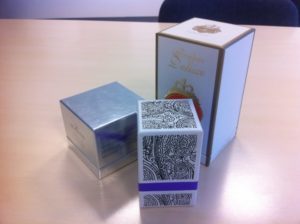 The absence of heat sealing ensures boxes that are esthetically more pleasing and uniquely suited for jewels, mobile telephones, eyewear, perfume, etc.
With Europrogetti, beauty has multiple sizes in just one machine.
Europrogetti does not cease to amaze. Innovation is the very nature of the company which, despite the success of the EP100 line, has further improved production performance, creating the EP130N line. The idea that was hatched in 2017, after extensive research, design, development and perfecting, is today a reality.
The EP130N line is an evolution that meets the requirements of an increasingly demanding market; based on the requested specifications, Europrogetti creates a totally automatic machine that satisfies production requirements that demand increasingly refined esthetic qualities.
The EP130N is a high-performance line that produces a variety of formats: boxes that range from 1 cm high to 13 cm, even with sharp corners. A high-end machine with a patent-pending system for perfect flap sealing, automatic format changeover adjustments, capable of processing "cross" shaped and "T" shaped blanks, that also includes built-in assistance and motorized adjustment of the counter-mould.
Thanks to this innovation, the EP130N can cover wallet-shaped boxes automatically and simply, without the need for heat-sealing tape or pins, in a quick and practical manner. This is the only machine available on the market that can produce covered boxes in a variety of heights, from a minimum of 1 cm to a maximum of 13 cm, such as boxes for mobile telephones/tablets and champagne bottles.
The first versions of the EP130 machine have been running in France since March 2018, but given the success of the first machines installed, the production stage is already underway to meet the vast market demand.
The EP130N machine is a veritable mechatronic "jewel": it has all the features of a high-end machine in a compact size. The best possible quality in minimal space! Moreover, by installing the labeler kit (also patented), it will also be possible to produce sewn boxes.
Discover all the potential of the EP130N and ask our sales experts; they will listen to your needs and show you how to increase the beauty and performance of your products.