2018 – The future of innovation restarts from EP100L
The world most imitated automatic machine for the converting industry.
The EP100L line is a system made up of an automatic machine suitable for the production of luxury packaging, with reduced dimensions and high performances, which has structurally revolutionized the concept of the traditional lines and which allows remarkable savings on the production costs.
Any similar machine hadn't existed on the market until 2012 and Europrogetti, thanks to its innovative nature, has been able to combine the best of the mechanical engineering with the best of the automation, thus creating a product that has revolutionized the sector.
The EP100L is an innovative machine, originally developed for the smartphone industry because the packaging designers didn't want to see the heat-sealing tape under the paper.
Europrogetti was the first company to design and produce this kind of machine: it was launched on the market in 2012 and has seen an immediate and successful answer all over the world from the very beginning.
Europrogetti's innovation was the creation of an automated system, covered by a patent, which allows the production of high-level boxes, perfectly smooth and even. In this way, the packaging image has acquired an elegance and a beauty never known before.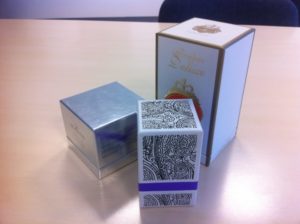 With the EP100L line, Europrogetti has brought a real innovation in the smartphone packaging sector, which has been followed by everyone in the subsequent years.
The EP100L line, thanks to the absence of the heat-sealing tape, allows to have aesthetically nicer boxes, especially recommended not only for the mobile and smartphone sector but also for the jewellery, eyewear, perfumes, publishing and multimedia fields, etc.
You can visit the website www.epsrl.it and see the various automatic solutions, all designed and manufactured based on drawings and patents (https://epsrl.it/en/innovation/patents/). Europrogetti: an all made in Italy know-how.
Discover the unique features of the EP100L line by Europrogetti and its numerous potentialities.
Ask our technical sales engineers, they will listen to your requirements and evaluate how to increase your performance and improve the quality of your products.